What is constipation?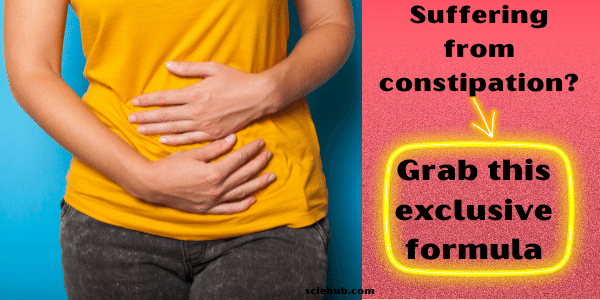 Constipation is a common condition that affects people of all ages. It can mean that you're not passing stools regularly, or you're unable to empty your bowel completely. As a result, your bowel movement is less often than normal. The expected time duration between bowel movements varies from person to person. Some people have them three times a day. Others have them just a few times a week. Having fewer than three bowel movements a week is the definition of constipation.
Your stool would be soft and easy to pass every time you need to have a bowel movement. However, constipation can cause your stools to be hard and lumpy, as well as unusually large or small. These are more difficult to pass than soft bowel movements and can range from difficult to pass to altogether painful.
The severity of constipation also varies from person to person. Many people only experience constipation for a short time. Still, for others, constipation can be a long-term (chronic) condition that causes significant pain and discomfort and affects the quality of life.
Also read: Natural teeth whitener
How common is it?
Constipation may happen in babies, children, and adults. It is one of the most frequent gastrointestinal complaints overall the world. In the United States, at least 2.5 million people see their doctor each year due to constipation. In addition, around 1 in every 7 adults and up to 1 in every 3 children in the UK has constipation at any one time.
People of all ages can have an occasional constipation problem. Some people have chronic constipation. Those are-
Taking certain medicines 
Older people are less active, have a slower metabolism, and have less muscle contraction strength along their digestive tract than when they were younger.

Having digestive disorders and certain neurological diseases of the brain and spinal cord

Women, especially in pregnancy and after childbirth, Changes in a woman's hormones make them more prone to constipation. The baby inside the womb squishes the intestines. It slows down the passage of stool.
Also read: How to lose weight without exercising and dieting
How does constipation happen?
The digestive system consists of a series of hollow organs starting from your mouth to your anus. It is responsible for digestion, nutrient absorption, and waste removal. As food normally moves through the digestive tract, nutrients are absorbed. The partially digested food (waste) that remains moves from the small intestine to the large intestine. The large intestine includes the colon, rectum, and anus. Colon's main function is to absorb water from your digested food, changing it to a solid matter called stool. The colon's muscles eventually propel the waste out through the rectum to be eliminated.
Constipation occurs when digested food spends too much time in your colon or passes through the colon too slowly. The slower the food moves through the digestive tract, the more water the colon will absorb. When the colon absorbs too much water, it makes your stool hard and dry and difficult for your rectal muscles to push out of your body.
               Manage constipation – Learn more   
Also read: How to protect yourself from EMF  
Affiliate Disclosure:
Some of the links contained in this article may result in a small commission if you opt to purchase the product recommended at no additional cost to you. This may help us to maintain this website to provide you more information about the various health topics and remedies and please know we only recommend high quality products.
Disclaimer:
Please understand that any advice or guidelines revealed here are not even remotely a substitute for sound medical advice from a licensed healthcare provider. Make sure to consult with a professional physician before making any purchasing decision if you use medications or have concerns following the details shared above. Individual results may vary. These products are not intended to diagnose, treat, cure or prevent any disease.