EMF protection Defense Pendant Necklace Protects You From the Everyday EMF Radiation That is a Danger To Your Health
Studies have proven that these hidden dangers affect your health in many ways…
Cellphones, powerlines, WIFI, and 5G satellites are a fact of life today. We live with more EMFs in our environment than ever before…
And they are taking their toll.
Here are just a few of the known symptoms of EMF exposure:
❤️Show someone special how much you care by giving them a Defense Pendant this ❤️Valentine's Day!
Protect your loved ones with a beautiful EMF-shielding Defense Pendant for Valentine's Day. It's a gift that will be with them for years to come, worn close to the heart.
And, it's so much more than just a gorgeous, quality piece of jewelry! The Defense Pendant is powerful technology disguised as a pendant that creates negative ions to deflect, balance, and neutralize harmful EMF radiation.
EMF Protection With Defense Pendant
Now there is a simple and stylish way to protect your health and well-being as you are exposed to the pervasive electromagnetic radiation in today's environment. While driving, shopping, or traveling, in your home, office, or school, you will meet with EMF's emitted by many sources – from cell phone towers to WiFi routers to smart meters to your own cell phone.
The EMF Defense Pendant Necklace will support your body against the negative effects of these EMF's wherever you go, 24 hours a day.
Limit your exposure with the Defense Pendant!
The Defense Pendant is a small piece of advanced technology designed to harmonize energy waves around your body.
Its middle layer contains 10,000 negative ions, 36 minerals, and a layer of black tourmaline all sandwiched between stainless steel plates.
People who wear the pendant report near-instant relief from symptoms and an increase in health, immunity, and mental wellbeing.
***Individual results may vary
Protect Your Family with the EMF Protection Defense Pendant
This is such a simple and inexpensive way to protect your family from the damaging effects of EMFs.
We're offering an even deeper discount when you buy three or more Defense Pendants!
ORDER 3 OR MORE (OF ANY COLOR OR SIZE) AND GET
AN ADDITIONAL 20% OFF!!!
(Discount automatically added at checkout)
INCLUDES:
1x Pendant
1x Chain
1x Presentation Box
Certificate of Authenticity
Colors
Silver
Rose Gold
Gold Tone
Sizes
Bottom of Form
YOU ARE PROTECTED BY
90 Days Money Back Guarantee
Here's the deal:
When you receive this product, we have a simple promise: fall in love with it within 90 days or you can get your money back.
There's absolutely no-risk in giving our products a try.
The countdown for the refund policy will begin on the day you receive your product and expires 90 days later.
*Minus shipping & handling, when applicable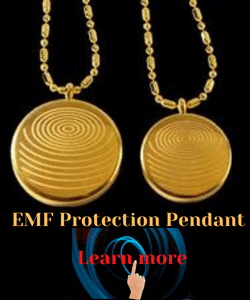 See what people are saying about the Defense Pendant   
Related posts-
Affiliate Disclosure:
Some of the links contained in this article may result in a small commission if you opt to purchase the product recommended at no additional cost to you. This may help us to maintain this website to provide you more information about the various health topics and remedies and please know we only recommend high quality products.
Disclaimer:
Please understand that any advice or guidelines revealed here are not even remotely a substitute for sound medical advice from a licensed healthcare provider. Make sure to consult with a professional physician before making any purchasing decision if you use medications or have concerns following the details shared above. Individual results may vary. These products are not intended to diagnose, treat, cure or prevent any disease.