Yes, it is possible to prevent constipation.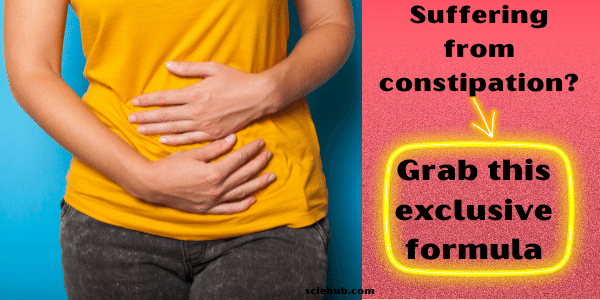 The following can help you prevent constipation, and avoid developing chronic constipation.
Eat a well-balanced diet. Include plenty of high-fiber foods in your diet, including beans, vegetables, fruits, whole grain cereals, and bran. See how supplements can help ease digestion.

Drink plenty of fluids.

Eat fewer low-fiber foods such as processed foods and dairy and meat products.

Don't ignore the urge to pass stool. Giving yourself enough time and privacy to pass stools comfortably may also help.

Stay as active as possible and try to get regular exercise.

Try to manage stress.

Make sure children who begin to eat solid foods get plenty of fiber in their diets.
When should to call your doctor?
Call your doctor right away if:   
Constipation is a new problem for you, and lifestyle changes haven't helped.

You have sudden constipation with belly pain or cramping.

You aren't able to poop or pass gas at all.

You have severe pain with bowel movements.

You see blood in your stool.

You are losing weight unintentionally.

Your constipation has lasted more than three weeks.

You have symptoms of outlet dysfunction constipation.
Talk openly and honestly with your doctor about your bowel movements and any questions or concerns you may have. Pooping is a part of our life. Constipation may be a temporary situation, but it may be a long-term problem or a sign of a more serious condition. See your doctor, especially if you've noticed a change in your bowel pattern.
Diagnosis and tests to find the cause of your constipation

Your doctor may recommend no tests. The decision of your doctor depends on your symptoms, medical history, and overall health. He may ask for some tests to find the cause of your constipation. Some are-
Bowel function test– to check the muscles in your anus how well your anus and rectum hold and release stool. That is, how waste moves through and out of your colon. In this test, a certain type of x-ray, the insertion of a small balloon into the rectum, is done to find out the causes of constipation.

Colonoscopy to look internal view of your colon with a scope to check blockages. In this procedure, the biopsy is done. A small sample of tissue may be taken to test for cancer or other problems. If anything is found, it is removed. 

Blood and urine tests to check on hormone levels. There can get the signs of hypothyroidism, anemia, and diabetes if you have anything.

A stool sample is taken to check the signs of infection, inflammation, and cancer.

Colorectal transit studies

:

 These tests involve consuming a small dose of a radioactive substance, either in pill form or in a meal, and then tracking both the amount of time and how the substance moves through your intestines.

Imaging tests, such as CT, MRI, or lower gastrointestinal tract series may be done to identify other problems that could be causing your constipation.
Surgery
Surgery is rarely needed to treat constipation. Your doctor may recommend surgery-
 if constipation is caused by a structural problem in the colon. Examples of these problems include a blockage in the colon,

a narrowing in a portion of the intestine, 

tear in the anus


the collapse of part of the rectum into the vagina, 

cancer was found in your colon, rectum, or anus. 
Some causes of outlet dysfunction constipation may be treated with surgery. They may discuss the need for surgery after testing. 
What questions may doctors ask?
When you visit a doctor, he may ask some questions to you to know better about your medical condition. 
Your doctor may ask about your lifestyle, bowel movements, and medical history.
Lifestyle
Here are some questions that your doctor may ask about your lifestyle habits and routine.
Do you exercise? What is your routine?

What do you eat in your meals?

Which drinks do you have? How many times a day?

Tell me about your eating addictions.
Bowel movements
How often do you have a bowel movement?

Did you see any blood in your stool?

What do your stools look like?
Medical history
Are you suffering from any disease?

What are your current and past diseases/health conditions?

Have you lost or gained any weight recently?

Does anyone in your family have constipation or disorders of the digestive tract or a history of colon cancer?

Have you had any previous digestive tract surgeries?

What medications and supplements do you take for other disorders and constipation relief?

Have you had a colonoscopy? 
You may like-
Affiliate Disclosure:
Some of the links contained in this article may result in a small commission if you opt to purchase the product recommended at no additional cost to you. This may help us to maintain this website to provide you more information about the various health topics and remedies and please know we only recommend high quality products.
Disclaimer:
Please understand that any advice or guidelines revealed here are not even remotely a substitute for sound medical advice from a licensed healthcare provider. Make sure to consult with a professional physician before making any purchasing decision if you use medications or have concerns following the details shared above. Individual results may vary. These products are not intended to diagnose, treat, cure or prevent any disease.